Sanitisation and Disinfection Service
Any premises with high human traffic is a potential for the spread of bacteria and viruses. Common touch points are highly contaminated surfaces. These surfaces include, but not limited to, tables, chairs, hand rails, counters and any objects that people touch.
Cleanbio Hygiene provides sanitisation and disinfection service for residential and commercial premises and facilities. Our service gives you the peace of mind that your premises and facilities will be thoroughly disinfected with our breakthrough product NOVIRUCLEAN containing NEA-approved ingredients.
About NOVIRUCLEAN
NOVIRUCLEAN is your 3-in-1 solution that cleans, deodorises and disinfects surfaces. It is anti-bacterial and anti-viral that destroys both gram +/- strains of bacteria, MERS, SARS including the coronavirus. It is ideal for sanitising common touchpoint areas and keeps surfaces free of microbe.
NOVIRUCLEAN contains NEA-approved ingredients, approved for sanitising aircrafts, and is certified safe as a surface disinfectant.
NOVIRUCLEAN leaves no stain, and is perfectly safe on all hard and non-porous surfaces (such as stainless steel, laminates, aluminium, plastics). It has low irritancy and leaves a refreshing apple fragrance after use.
Disinfect your facilities and premises, and keep them fresh and safe with NOVIRUCLEAN!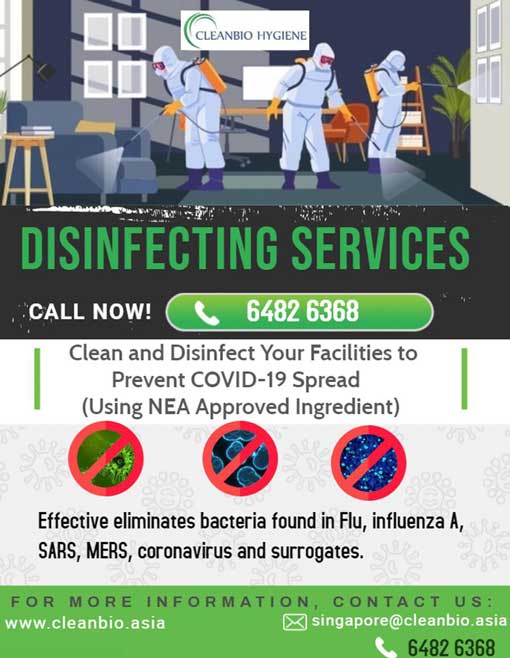 Places to Sanitise
Places that NOVIRUCLEAN is suitable for sanitising, but not limited to:
Transport: Aircrafts#, trains, MRT, buses, taxis, cars
Buildings: Schools, office, factories, hotels
Facilities: Gyms, cinemas, restaurants
Healthcare: Clinics, hospitals
# Safe for use on ALL materials used in the construction of aircraft and aircraft toilets, both re-circulating and vacuum types.
Common Touchpoint Areas
Surface areas you can disinfect with NOVIRUCLEAN, but not limited to:
Aircraft cabins, holding bars, seats, armrests, tray tables, seatback pockets, overhead compartments, crew rest area, control panels, telephones, waste bins, galleys, washrooms, waste tank, floors, walls, doors, panels, etc.