Feminine Sanitary Disposal Service
The disposal of feminine sanitary waste is a sensitive issue. At Cleanbio Hygiene, we provide feminine sanitary disposal service, a thoughtful service that ensures hygienic washrooms for ladies.
As part of this service, our female service crews will collect and exchange the sanitary bins regularly from the ladies washrooms in your premises. This service is handled discretely (usually during off-peak hours) to minimise inconvenience to washroom users.
Beside hygiene considerations, feminine sanitary wastes, if not properly disposed, may end up being flushed down the sewers, and this could lead to choked pipes and expensive repairs for building owners.
Please contact Cleanbio for a non-obligatory quotation for Feminine Sanitary Disposal service.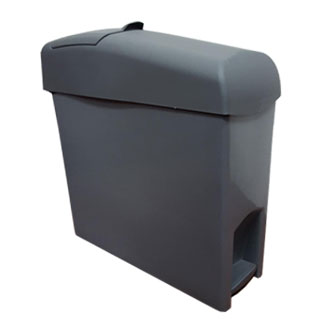 Benefits of Service
Minimise Toilet Bowl Chokes
By providing a lady sanitary bin in your washrooms, this could minimise the problems of sanitary wastes being flushed down the toilet bowls which would choke the drainage leading to expensive plumbing repairs.
Anti-Bacterial. Prevents Malodours.
Our sanitary bins are treated with specially-formulated anti-bacterial gel. The gel effectively eliminates bacteria and prevent foul smell, resulting in a cleaner and fresher washroom for ladies.
Step Bins – Hygienic, Touch-free
Cleanbio feminine sanitary bins are slim and with foot pedal for a touch-free operation. Slim in design, able to fit into even the most compact cubicles. Being a step-bin, the usage is convenient and more hygienic for ladies.
Flexible Schedule
Customers have the flexibility to decide on the collection schedule, that is, how often should the lady sanitary bins be collected and replaced with freshly sterilised and sanitised bins.
Feel free to talk to us about your requirements.